Rumour ll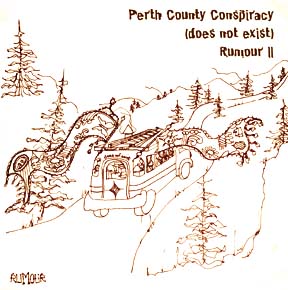 Perth County Conspiracy (does not exist)
The Perth County Conspiracy's Rumour ll album, one of the first "homemade" independent Canadian vinyl releases in 1973, has been reissued. Originally pressed from tapes recorded live in Ottawa, Sudbury and Winnipeg, it features songwriters Cedric Smith, Richard Keelan and Bob Burchill with Michael Butler (bass), David Balser (percussion) and Judy Crocker (piano and flute) in a melange of political, spritual, and vaudevillian chaos. You may remember it as the plain white album with the mimeographed sheets stuck inside! This bit of audio time travel will definitely resonate with anyone who saw the band, and intrigue those who missed it. Rumour has it (so to speak) that there is more material likely to see the light of day from the Conspiracy archives.
"SIDE ONE"
1. Tune Up 0:23
2. Sad Stories (Burchill) 3:52
3. The System 0:18
4. Educational Rag (Smith) 2:20
5. Election Results 0:28
6. Wiser Heads (Keelan) 4:48
7. Wild Mushrooms (Keelan) 1:32
8. A Field Trip 0:26
9. Hooray for the Farmer
(Acorn/Smith) 3:01
10. Kingdoms (Burchill) 3:06

"SIDE TWO"
11. Comin' Around the Bend (Keelan) 4:08
12. Pastures of Plenty (Guthrie)
/ I Shout Love (Acorn / Smith)
/ Martyrs (Acorn) 7:36
13. Live to Die (Keelan) 3:17
14. Earthbound (Burchill) 5:24

Originally released 1973.
Recorded live in Ottawa,
Sudbury and Winnipeg.

David Jeremy Balser - percussion
Bob Burchill - guitar, vocal
Michael J. Butler - electric bass
Judy Crocker - piano, flute
Richard Keelan - guitar, mandolin, vocal
Cedric Smith - guitar, vocal
Dorit, Penny and Jesse, too.
Live sound by David Hopper, Stoneage Sound

Thanks to Robert Eade and Terry Tufts for
providing materials for this reissue
CD version by David Woodhead August 2006


Available direct: send $20 Cdn money order or cheque
(includes shipping) to David Woodhead at:
133 Albany Ave, Toronto, Ontario, M5R 3C5
Don't forget your return address!